ABOUT ME
Kwandaa Roberts, MD
Most of us have many passions and if we're lucky, we get to do something we love for a living. As an OB/GYN, I've delivered thousands of babies—and that is one of the most amazing things to see, no matter how many times you experience it.
But I have a very creative side as well, and one of my other passions has always been interior design. I'm obsessed with design shows and I'm constantly redecorating my own house. I can't help it, I always need projects!
A couple of Christmases ago, I thought it would be really fun to buy a dollhouse kit to put together for my then-three-year-old daughter. I purchased a Melissa and Doug brand child's dollhouse and remodeled it. I had so much fun I decided to buy another one just for myself. I bought the dollhouse at Target from the Hearth and Hand collection by one of my favorite HGTV show hosts, Fixer Upper's Chip and Joanna Gaines.
As soon as I opened the box, I jumped head first down the rabbit hole and into the wonderful world of miniatures. I went to town and channeled Joanna Gaines' neutral palette and farmhouse chic style. There's a copper tub in the bathroom, a charcoal gray bookcase downstairs, exposed wood beams in the ceiling, white subway tile in the kitchen, and a marble island set with tiny dishes, topped off with a gingham-check living room chair.
I even created a tiny copy of Magnolia Journal that's the size of a postage stamp in the magazine rack, a miniature copy of Capital Gains: Smart Things I Learned Doing Stupid Stuff by Chip Gaines on the nightstand, and Joanna Gaines' book, The Magnolia Story, on the coffee table.
As I started working on the house, I would bring in pictures to show the women in my office. They went insane and insisted I post my work on Instagram. At first I thought, "Really? It's just my hobby and this is all about having fun."
I took the plunge and put up my first IG post on my birthday, February 28. Almost immediately, hundreds of 'likes' started racking up. By the end of the week, I was getting messages from as far away as New Zealand and Indonesia.
View fullsize
Then followers began tagging Joanna Gaines, using the hashtag #showJo. Soon, Joanna Gaines was admiring my work and sharing lots of slides on her InstaStories.
I'd only posted 25 times and then everything exploded—which they tell me is unheard of in the social media world. HGTV, Architectural Digest, People Magazine, Country Living, Southern Living, BuzzFeed, and more have all picked up my story. NBC's The Today Show, ABC News, and even The Daily Mail in England have done stories. My Instagram account, @TinyHouseCalls, has grown to over 80,000 followers as of February 2021.
Never in my wildest dreams did I think anything like this could happen. And while the attention is exciting, the best part of it is that I get to indulge in one of my favorite passions and my mother isn't asking me: "Why do you have another chandelier!?" I've had requests to decorate normal-sized homes and now have the beginnings of a burgeoning interior decorating business.
But I still love to decorate in miniature and currently have three more dollhouses in the works right now. Like I said, I always need projects!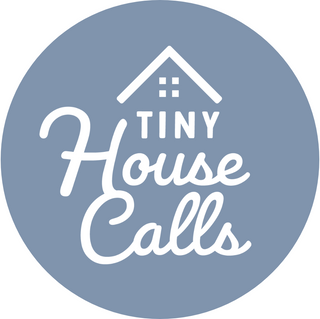 A BIG LOVE FOR TINY THINGS,
SHARED FROM MY HEART TO YOURS.
I didn't think anyone would be interested in my new midlife hobby. I'm so thankful I was wrong and I've been able to take this journey with you all. The connections I've made have been real—and life-changing.
I think part of the fascination so many of us have with miniatures is because it's so universal—from children-at-play to Nanas with hobbies. It can bring comfort to those dealing with grief, loss, anxiety, and depression.
It also an endlessly fascinating creative outlet for those of us who are design-obsessed and love beautiful, tiny things.
THANK YOU FOR COMING WITH ME ON THIS WILD little RIDE.
 FOLLOW ALONG @tinyhousecalls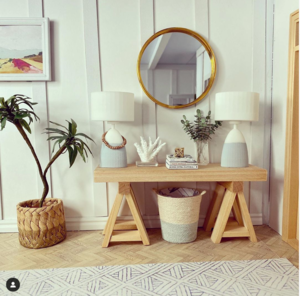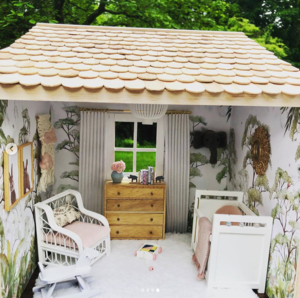 A SURPRISING DETOUR
FROM DOCTOR TO DESIGNER
An OB/GYN by day and accidentally-crafty miniaturist by night, I unexpectedly discovered the big joys of designing and decorating little dollhouses. Now I get to satisfy my lust for luxe design—without having to redecorate my own normal-sized home every time I fall in love with a beautiful new wallpaper, rug, or sofa!